Peony's Tavern: 3.03 – White Rain Brings Chaos to Town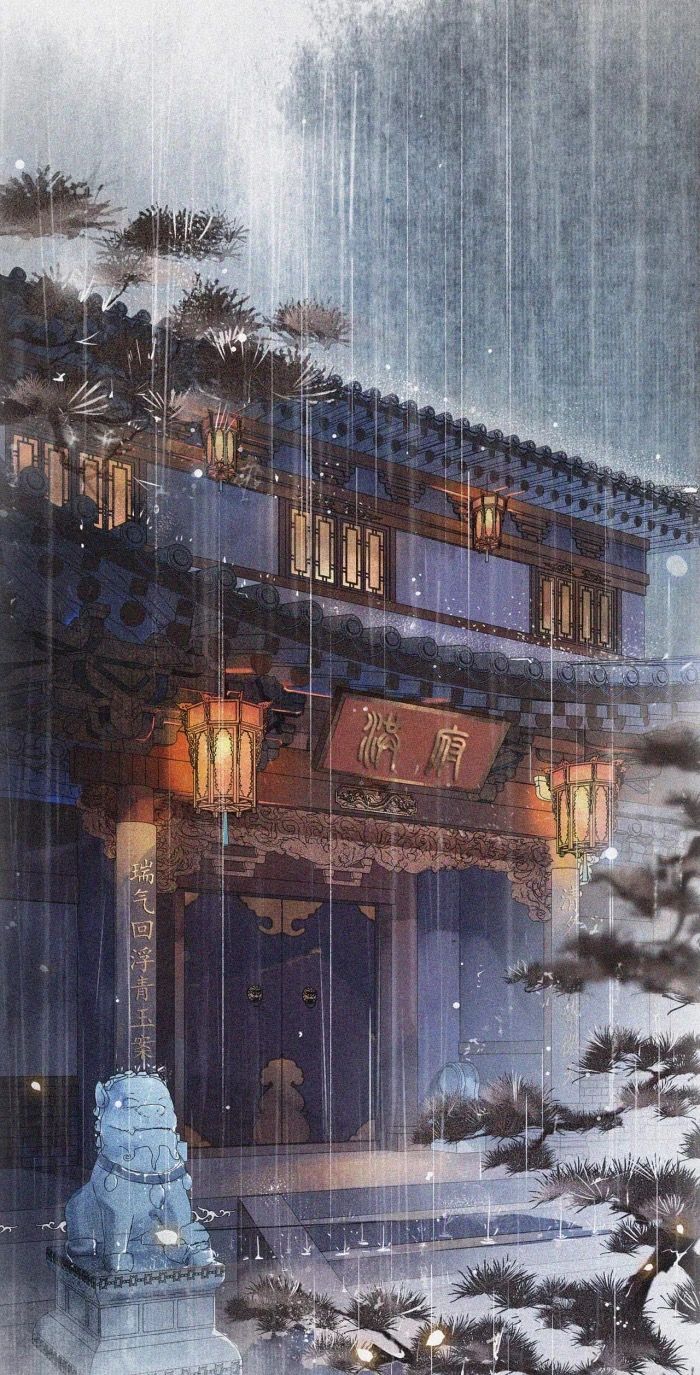 Part of a Peony's Tavern translation project at fruitydeer.com.
Do not download, copy, or redistribute without permission.
Source: 芍藥客棧 by Yi Mei Tong Qian // Translated By: Xin (fruitydeer)
A slow chapter today as we build up to the main conflict. Nevertheless, enjoy!
---
Chapter 3.03
After pouring the tea, Shao Zi went to the backyard to call Pa Pa down and ask: "Has the monk made any movements?"
Pa Pa straightened: "Reporting to lao da, he's remained inside the room this whole time reciting Buddhist scriptures."
"What about the orchid cactus."
"Nothing there, either."
Shao Zi rubbed her chin as she returned to the front hall. The scholar was no where to be seen. He truly lacked the motivation to be an innkeeper, always going out to play for no reason. After sitting for half a shi chen, she saw a horse-drawn cart stop before the front doors. In that moment, her eyes flashed with light. It was a customer! Like a lively child, she rushed over to receive them, but then she saw the scholar descend, along with three other bags of rice. She involuntarily slouched against the pillar. It was just the rice shop's delivery cart; she got all excited for nothing.
At night, the two cooked up the stored vegetables still remaining and enjoyed a full meal. As Shao Zi washed dishes in the kitchen, Pa Pa stretched his head inside: "Reporting to lao da, the monk is preparing to go out."
Shao Zi hastily put down the things in her hands and went up to the roof. What she saw was the monk carrying an umbrella in one hand and the orchid cactus in the other, leisurely walking towards West Street. She followed along with light footsteps across the roofs. Because there were sounds of rain, the noises of her feet making contact with the shingles were concealed. Thus, the monk continued on without noticing.
Only when West Street was nearing a dead end did she see him come to a stop. Shao Zi squatted on the rooftop behind him, eyes fixed on his figure. A moment later, she watched him set down the umbrella and orchid cactus, his palms and fingers pressed together as he began reciting scripture. Shao Zi didn't understand what he was saying, but the low sounds of his recitation floated into her ears, gradually relaxing her heart and eliminating her anxiety. She slowly entered a state of isolation, feeling only that all was peaceful and free of worries. That sensation of tranquility penetrated her heart, going deeper and deeper…
"Shao Zi."
A low voice by her ears shook her back to her senses. When she craned her neck over, she nearly tumbled off the roof: "Innkeeper."
The scholar hushed her quietly: "Don't get ensnared. The orchid cactus has begun to bloom."
Shao Zi quickly looked over and was instantly charmed by the sight before her eyes.
That orchid cactus was in full bloom. Bountiful red blossoms, rouge as red as blood, burst open like ripples of water in this wide expanse of land. The monk stood in the middle, still reciting Buddhist scripture. His countenance revealed piousness, but beneath his feet was something analogous to a bloody scene. Strange yet pathétique, in the midst of this night, it seemed like a grand pathway laid for hundreds of ghosts to drift across.
Only now did Shao Zi sense that orchid cactus' demon energy. So it turns out that only when the flower blooms does its demon energy manifest. No wonder she had not been able to detect it.
The scholar held an umbrella up for her and the two squatted there, dawdling around and staring at the strange scene before them. What left them astonished was that at the center of that hostile energy which surrounded the orchid cactus demon, the monk remained pure of wickedness. His heart as clean as a spiritual spring, dirt-free and without flaw.
A set of grandiose gates opened with a creak, and from it came a man who was dressed in inner wear. Step by step, he walked into the sea of red.
The man knelt in front of the orchid cactus, murmuring with a lifeless gaze, "I have sinned, I have sinned." In an instant, a haze of red fog emitted from the formation of the orchid cactus. From it came a head belonging to a woman clothed in crimson red. Her feet were covered in red smoke. As she spun in the air, orchid cactus petals sprinkled about, bloom after bloom. Yet, the scene remained utterly silent. All that could be heard was the man uttering those three words over and over again.
After a long time, the monk finally stopped reciting scripture and slowly said, "Atone for your sins, then."
Shao Zi looked on anxiously. The orchid cactus demon had already conjured a dagger. Without hesitation, the man received it. As he gripped it tightly with both hands, he pierced it towards his chest.
"Halt!"
Shao Zi immediately went down and kicked the dagger away, shouting, "Open!" Hundreds of blossoms instantly sprouted from the ground and broke through the orchid cactus' demon energy. The orchid cactus demon bore back into the pot, returning back to its normal form. The monk's complexion changed; he spat up blood, then fainted.
Shao Zi leaned over and examined his breathing. He was still alive. But she didn't expect that the person capable of controlling the orchid cactus demon would be a mere ordinary monk. If she didn't assume that this person was an evil monk, there was no way she would have used such a forceful move. Then, she went over and peered at that man who had also fainted. Her brows wrinkled: "Great Official Shen."
The scholar followed as well: "Great Official Shen?"
Shao Zi nodded, raising her head to look at the inscribed plaque above the gate. It was indeed the Song Family House. She pondered aloud: "Recently, Madam Song fell into a well. The Song Family told outsiders that it was suicide, but there was a constant rumor that Great Official Song was favoring the concubine while pushing away the wife1 and that Madam Song's death was caused by the concubine. But the government offices said it was suicide, so Madam Song's natal family couldn't do anything about it and the matter was never resolved."
Thinking of that "'I have sinned' and 'Atone for your sins, then,'" from just now, Shao Zi had a vague feeling that she may have gotten involved in the wrong situation and beaten up the wrong guy.
The scholar said: "Let's first carry him back to the tavern, then."
Shao Zi nodded. She picked up a rock and tossed it at Song Family House's main gate. Just after they left, a servant came out and saw their old master lying in front of the doors, snoring soundly.
Back at the tavern, the scholar laid the monk on the bed. Shao Zi carried the orchid cactus in as well. A moment later, she brought some water over and wrung a face towel to help wipe him down.
At this sight, the scholar narrowed his eyes. What? Letting Shao Zi wipe the face of an unfamiliar man—even he's never received this kind of treatment! He straightened up and took over: "Let me."
Shao Zi was moved, suddenly feeling a sense of, my family's innkeeper has grown up. She nodded cheerfully: "Then I'll go look for a set of clean clothes and help him change."
The scholar's head buzzed. What? Letting Shao Zi help another man change clothes? How! Can! This! Do! He straightened up again: "Let me."
Who would have expected that having lived this long, the first person he would serve would be a monk. Really unhappy, ya, really unhappy.
Shao Zi thought for a bit: "Then I'll go make some replenishing tonic for him."
The scholar said with difficulty: "I want some, too…"
Shao Zi frowned: "Innkeeper, stop messing around!"
He was clearly being very sincere! Seeing Shao Zi really leave, he resigned himself and took the face towel. Peering at the monk, he grumbled: "Had I known, I would've just stayed here as a patron. Such fantastic treatment. Why go through the trouble of an innkeeper, ya."
Then, he glanced at the orchid cactus. Despite its nefarious nature, the monk's soul had not been devoured at all. Even when in that orchid cactus formation that was full of despotic energy, he did not get tainted by even a trace of murderous aura. It wasn't the orchid cactus controlling him; rather, he was controlling the orchid cactus. This common mortal made him see things in a whole new light.
After the scholar contemplated for some time, the monk finally woke up with a cough. Dazedly coming into consciousness, he saw the scholar and, at once, used all his strength to stand: "My gratitude to the Benefactor for saving my life."
The scholar laughed, speaking mildly: "Going against Heaven's Will to commit murder, is that really acceptable?"
The monk stilled, eyes pinned on this refined scholar. Just as he was about to speak up, he saw Shao Zi carry something over while sighing: "There aren't any cooking ingredients in the kitchen, only a vat of rice, so I just cooked some white rice. Great Master, just eat this for now."
Her spiritual aura was mixed into this; once eaten, any internal injury could be healed. She was even a little reluctant to see it go. But who went and let her beat the wrong person? Only after that punch did she detect that the monk had no trace of murderous energy. Still, how could someone like this kill others for no reason?
The monk was about to give his thanks, but he when he saw that big washbasin of a weapon, that steady face suddenly revealed a desperate expression: "Benefactor, put down the butcher…butcher's knife…become one with Buddha…"2
Shao Zi looked down. Where was she carrying a knife? All that was in her hands was a fragrant pot of white rice, ya!3
In the end, the monk never finished eating it. No, it was that he couldn't finish that pot of rice. He felt as if he would have no desire to eat for a long time…
Shao Zi still wanted to urge the monk to continue eating, but the scholar couldn't hold back anymore. He patted her head: "Mortals' appetites are not like yours. Put down the washbasin, alright?""
"Oh…" Shao Zi felt a burst of regret. Seeing his complexion improve somewhat, she said: "I saw that you were able to manipulate the orchid cactus demon so I thought you were an evil monk. But I didn't expect that you were merely a mortal, so my methods were a bit harsh. Great Master, please forgive me."
The monk chanted "Amitabha": "To be able to resist the orchid cactus' ensnarement formation, Benefactor must lack evil intent. When I first entered the tavern, I saw that this place was the home of illustrious folk and would not be affected by the orchid cactus. But it is still unsuitable to stay too long. Now that Great Official Song is the only one in need of retribution, once his life is taken, this poor monk4 will be leaving."
Shao Zi thought it over, then nodded seriously: "Remember to pay for your stay."
The scholar laughed, this obviously wasn't the main point. He asked: "Do you plan on continuing to travel the world with the orchid cactus? Do you realize that this depressive rain is capable of making people's wills collapse? Those who cannot resist it will choose to end their life. The homicide cases in town these past few days must all attributed to you."
The monk's expression did not change. As with before, his two palms pressed together piously: "It is, indeed, due to this poor monk. If this maiden had not intervened tonight, Great Official Song would have already entered hell."
---
---